Participation in the Business Growth Club (BGC) is free for all Toronto Region Board of Trade small business members, and World Trade Centre Toronto program participants. Members are automatically enrolled into the Club.
About the Club
An innovative networking and business leadership initiative designed to fuel the growth of small businesses within the vibrant Toronto region. Our aim is to create a dynamic platform that propels entrepreneurial ventures to reach their full potential in a competitive business landscape.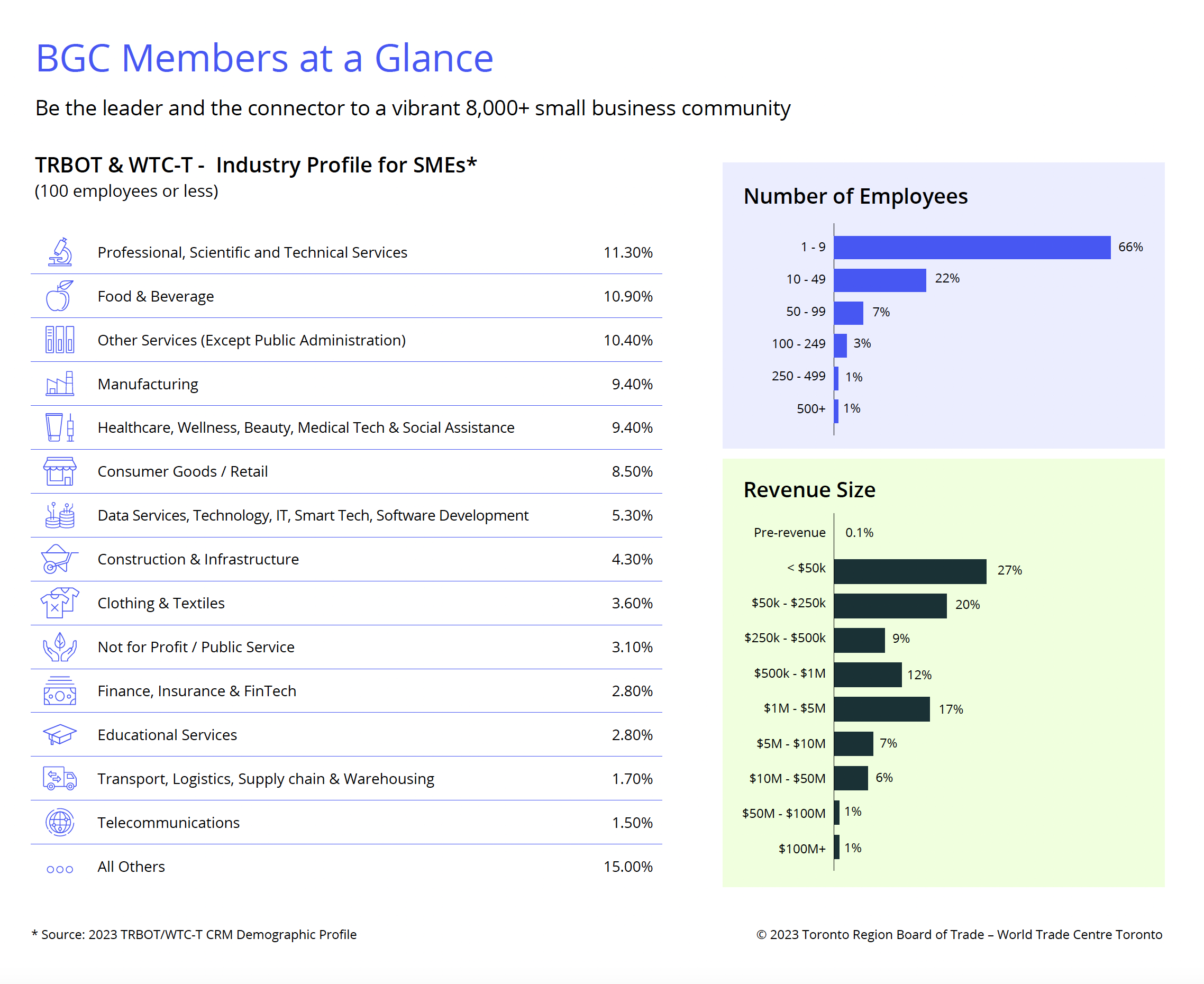 Unlock the solution to networking challenges & overcome business growth hurdles.
Networking Excellence
Propel your business forward by connecting with a diverse community of over 8,000 entrepreneurs, start-ups, SMEs, and like-minded individuals.
Global Perspective
Gain insights into international markets and trends to expand your business beyond local boundaries and explore global opportunities.
Resource Hub
Save time and money with our curated repository of resources, templates, and tools to streamline operations, marketing, finances, and more.
Knowledge Enrichment
Gain early-bird access to a wide range of workshops, seminars, and expert-led sessions, equipping you with valuable insights, strategies, and skills essential for business growth and development.
Community Support
Problem-solve through a supportive community that understands your entrepreneurial journey and celebrates your achievements.
Visibility & Exposure
Attract new clients, partners and investors by showcasing your brand through our events, and marketing channels.
Program Schedule
Business Growth Club's upcoming schedule.

Become a TRBOT Member to Access The Club
Not a TRBOT member? Business Growth Club is a complimentary addition to a TRBOT membership, thoughtfully designed to fuel your business growth.
Allow us to assist you in determining the membership option that aligns best with your organization's needs.