Toronto's Billy Bishop airport is a massive economic boon for the city, and it needs to be supported so our businesses and economy can flourish. That was the consensus Tuesday at our event Inflection Point: Benefits of a Downtown Airport in a World Class City.
In our beautiful new event space at 100 Queens Quay E., TRBOT President and CEO Jan De Silva framed the discussion by saying, "As well as restoring Toronto's visitor economy following pandemic lockdowns, Billy Bishop is key in the development of the waterfront and its connections with public transit and in unlocking growth for Toronto and the surrounding region."
She added, "It's imperative for our business community and our economy that we ensure Billy Bishop remains a success, and today we're here to talk about what more can be done to ensure that."
RJ Steenstra, who was named President and CEO of PortsToronto in September 2022, outlined what he sees as the mission of the downtown airport his organization oversees.
"Billy Bishop Toronto City Airport has long been about balance – balancing the commercial with the community to ensure benefit for all," he said. "It's why we have invested so significantly in environmental initiatives and offsets to ensure this airport does not overwhelm the waterfront, while also investing in infrastructure to ensure the airport can meet the needs of the City of Toronto and the residents and visitors who travel through our gates.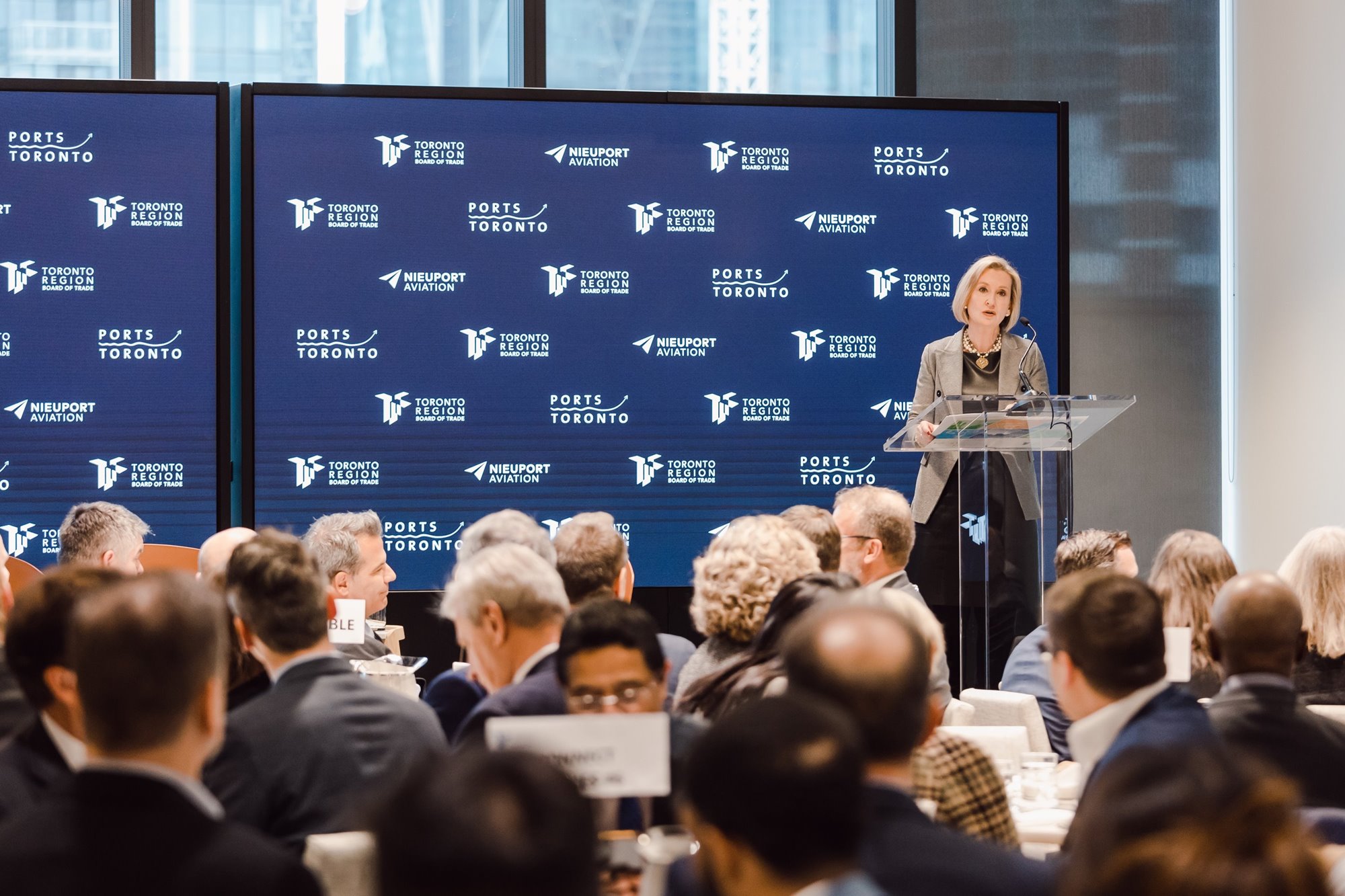 Richard Florida, Professor at the University of Toronto's School of Cities and Rotman School of Management, was the keynote speaker, unveiling a report his Creative Class Group wrote on the impact of Billy Bishop on the Region – you can read the full report here: Toronto's Downtown Airport: A Powerful Economic Asset in the City's Urban Core.
The report is worth a thorough read, but the numbers alone tell an important story – in terms of direct economic impact, Billy Bishop adds more than $4 billion directly to Toronto's economy, up from $2 billion in 2019, and it provided 15,000 jobs in 2019, projected to increase to 32,000 jobs in 2025.
Florida concluded his remarks by saying, "We are at an inflection point. There is no doubt that Toronto is among the best positioned places in the world, but we have to seize the opportunity. We have to figure out what we want to be in the year 2030, 2040, 2050. We have to get the tri-partite agreement done, and we have to continue to build up ourselves as a global city. Airports are critical components of connected infrastructure and essential to our downtown vibrancy. What better way to be what we can be than having the world's first and best example of a neighbourhood-based, walkable and sustainable airport right smack in the middle of our downtown."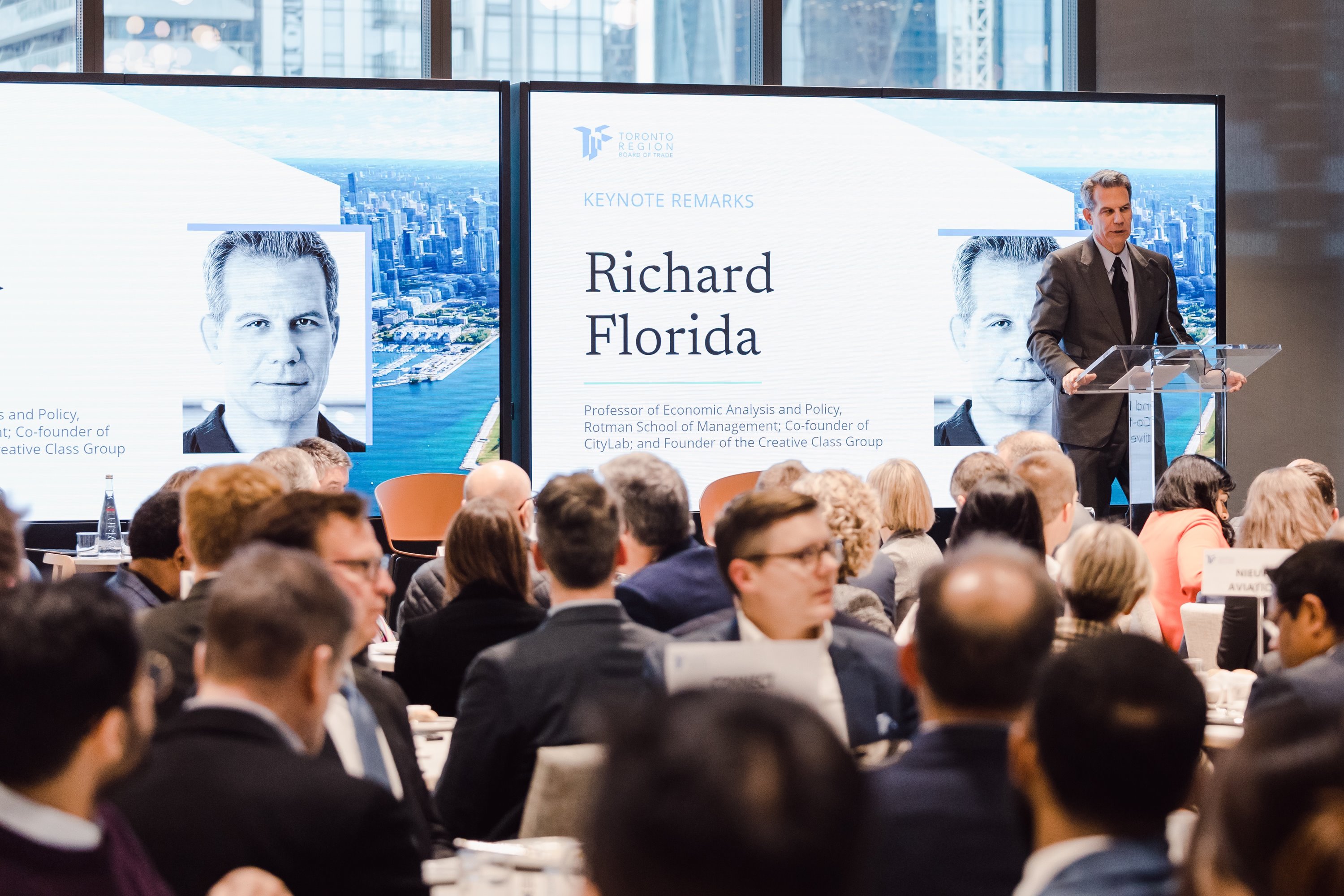 Florida was joined by Stephen Lund, CEO of Toronto Global, and Sandra Pupatello, President of Canadian International Avenues Ltd. and former Ontario Minister of Economic Development and Trade, for a panel discussion moderated by De Silva.
Lund, who spends his professional life supporting the expansion of international business in Toronto, talked about the role the airport plays in attracting U.S. executives and increased investment.
"You fly into Billy Bishop, you can land at nine, have a full day of meetings, and get home to tuck your kids in," he said. "And think about our entrepreneurs, who are trying to get out there in the world. We have two great airports, but I tell you now, Billy Bishop is a jewel for driving international business to this city."
Pupatello added that the airport is not just a way to connect with American business centres but also acts as a gateway to the rest of Ontario, whether her hometown of Windsor or the mining heartland of Northern Ontario.
"If I were the Minister of Economic Development and Trade again, I would sit back and say, 'what matters most to Ontario as far as business?' and you just happen to have a link to every one of them right here in this city, and those executives that make decisions need to be able to flit in and out of the city in a hurry, and it's all back to the practicality of that airport."
The event provided a fascinating and insightful look at the downtown airport, and it challenged everyone in the room to give more thought to how it can be supported and why it absolutely needs to hold a larger place in our city's imagination.
Thank you to our Presenting Sponsor PortsToronto and our Supporting Sponsor Nieuport Aviation for making this event possible.