Toronto's waterfront could be and should be Toronto's world-class calling card. Already home to a diverse community, a dynamic cultural hub, and stunning green spaces, the full-scale revitalization and development underway will not only elevate Toronto's unique shoreline but the city itself.
Ahead of our event Building a World-Class Waterfront on October 3, Tim Kocur, Executive Director of the Waterfront BIA, visited the Toronto Region Board of Trade to discuss the future of the waterfront and how our business community can support the evolution of a world-class shoreline.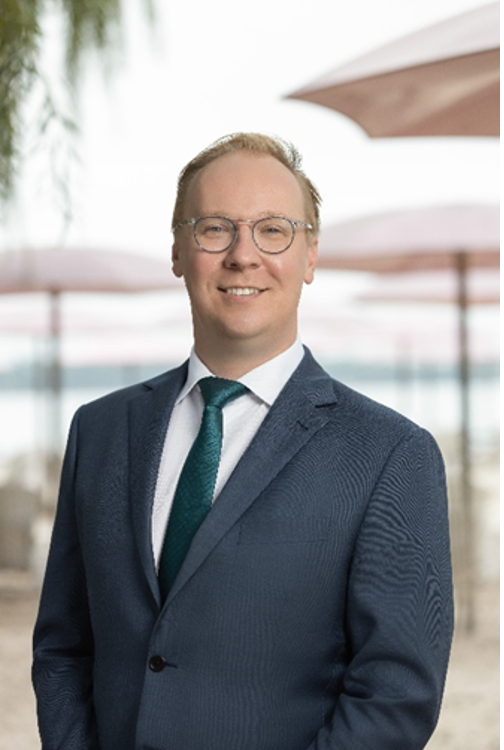 TRBOT: What excites you about the future of the waterfront?
Kocur: I think that the waterfront in Toronto is probably the most exciting opportunity in the entire country as a major development zone. It's Toronto's best opportunity to have a world-class element that's known around the world.
Having George Brown's logo, the University of Toronto logo, and the MaRS logo on new facilities at the waterfront is a great indicator of the future success of the waterfront. If you go to other waterfronts, you see investments from large institutions, corporate stakeholders, government, and businesses, which is exactly what you're seeing happen in Toronto.
You've got Exhibition Place, Ontario Place, and the arts and culture hub at the Harbourfront Centre. There's Waterfront Toronto developing the eastern waterfront, especially the Port Lands. There's PortsToronto and the future plans for the island airport. As well as potential investments in facilities coming to each end of the harbour.
It's all very exciting, especially if we can get everyone on the same page in terms of vision and addressing the connectivity issues.
TRBOT: You spoke a bit about connectivity, can you tell us how important connectivity is for the waterfront in the near term?
Kocur: You should think about it in terms of east-west connectivity and north-south connectivity. If we want the waterfront to be a premier destination, it has to be well-connected all along its length. And if we want the neighborhood to be successful, it has to be better connected to the rest of the city.
So we are advocating for the Waterfront East LRT, because it's clear that transit is the most important issue for the eastern waterfront. It's an existential issue; the neighborhood won't function properly if it doesn't get the transit that it was supposed to.
We also need to improve the north-south connections, because in order to get to the new parks, new offices and these new opportunities on the water, you have to go under a dark highway that isn't going anywhere.
So how do we get the City of Toronto to make the underpass a friendlier, more welcoming, better lit, and safer place to cross under?
That's why we started collaborating with the designers of the Bentway project on how to improve the underpass. Within a year, we did our first project where we painted part of it gold. Then we took part in two more ambitious pilot projects in the last year.
Our goal is to connect the dots across the waterfront and under the Gardiner. That's what we call the Waterfront Reconnect Pilot Projects. Whatever works best from those tests we hope will get the city's support and eventually become permanent.
TRBOT: Can you explain a little more about the importance of this east-west connection, especially in the context of increasing density in the eastern part of the waterfront?
Kocur: We did an economic impact study with Hatch in 2019 that essentially said that if we build the Waterfront East LRT all the way through the Port Lands, we could expect 67,000 new residents and 150,000 new jobs. We now expect it would be closer to 150,000 people, but that's not going to happen unless it's connected to transit. It can't happen with parking lots between every building.
Also, there are no new docking opportunities east of Yonge that are currently planned or funded, which is very important for the waterfront connectivity experience. The Port Lands have some significant opportunities to add new places where smaller ferries could go and places where you could have additional destination boats. These would be exciting opportunities to get people onto the water, improve connectivity, and make the waterfront a more attractive place for businesses to come to as well.
We want to see all parts of waterfront development better connected in the future, from the Port Lands to the Ontario Place and Exhibition Place area. There's so much happening on the waterfront even just on our periphery of downtown, but that isn't always talked about together.
TRBOT: Why do you think people aren't thinking about the waterfront as a whole?
Kocur: Well, part of the reason is that as the waterfront has developed in Toronto, there are many different entities with stakes in quite a few areas.
But with all the developments I talked about earlier, we're starting to think more and more about the waterfront experience and how to make sure it's all connected. That's why events like yours are so important. It's a chance for people to come together and have conversations about the waterfront as one large opportunity.
We just want to see all these people engaged in a positive dialogue. It's about collaboration, that's where the [Toronto Region] Board of Trade comes in. We're hoping that the Board of Trade, now because you've chosen the waterfront as your new office and event space, will be involved in this conversation on a regular basis as well.
We're hoping that we'll discuss a lot about our world-class waterfront opportunity at this event. We think that, if Toronto really is going to see itself as a world-class city, it has to take advantage of the waterfront.
We at the Toronto Region Board of Trade couldn't agree more. When it comes to our region's economic potential, we're all in for a revitalized waterfront that beckons residents, tourists, and businesses alike to experience our great city.

Learn more about an essential Toronto district that hosts more than 18m annual visitors.