On June 19, the Canadian Chamber of Commerce released findings from the 2023 Q2 Canadian Survey of Business Conditions that provides data on business conditions in Canada, as well as business expectations and views on emerging issues. The Toronto Region Board of Trade's Economic Blueprint Institute analyzed data for businesses in the Toronto Census Metropolitan Area (CMA) for a snapshot of current business sentiment in the region.
Cost concerns continue to dissipate while labour challenges are on the rise once again
The proportion of businesses identifying cost-related challenges as an obstacle continue to decline or remain stable in the Toronto CMA. However, rising inflation, debt costs, and cost of inputs remain the three most commonly identified challenges. After subsiding after Q3 2022, labour challenges have ticked back up with 36% of businesses identifying recruiting skilled employees and 29% identifying talent retention as a notable challenge. Inflation remains the most commonly identified obstacle for businesses in Toronto (16% of businesses surveyed), followed closely by talent recruitment (15%). While 8% of businesses surveyed identified labour shortages as their most critical challenge, a recent Statistics Canada report suggests that the labour crunch is mostly driven by positions that require relatively little education.
The most common current or planned action to address retention and recruitment obstacles is to increase wages for existing employees (40%). Firms are also looking to increase wages for new hires (21%), offer flexible scheduling (20%) and encourage participation in training (20%).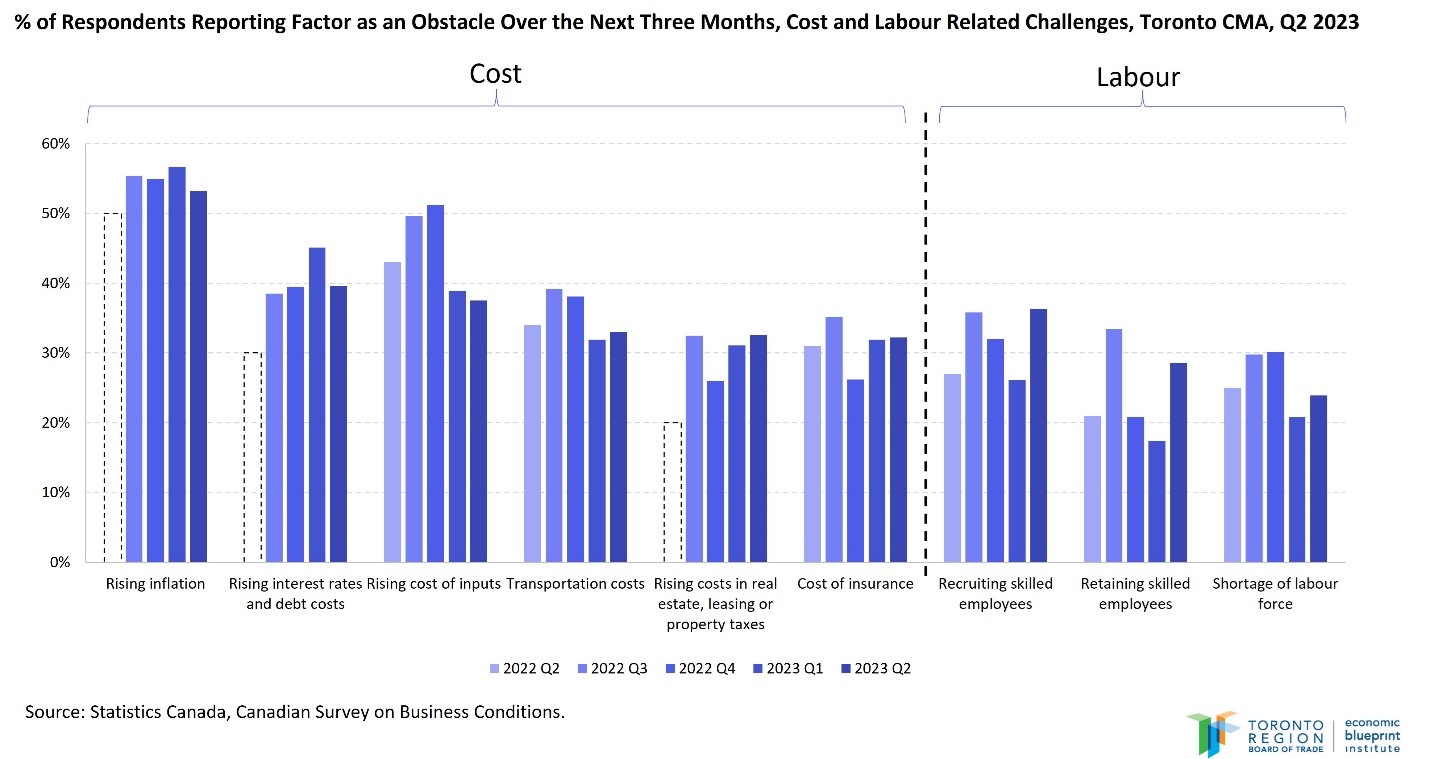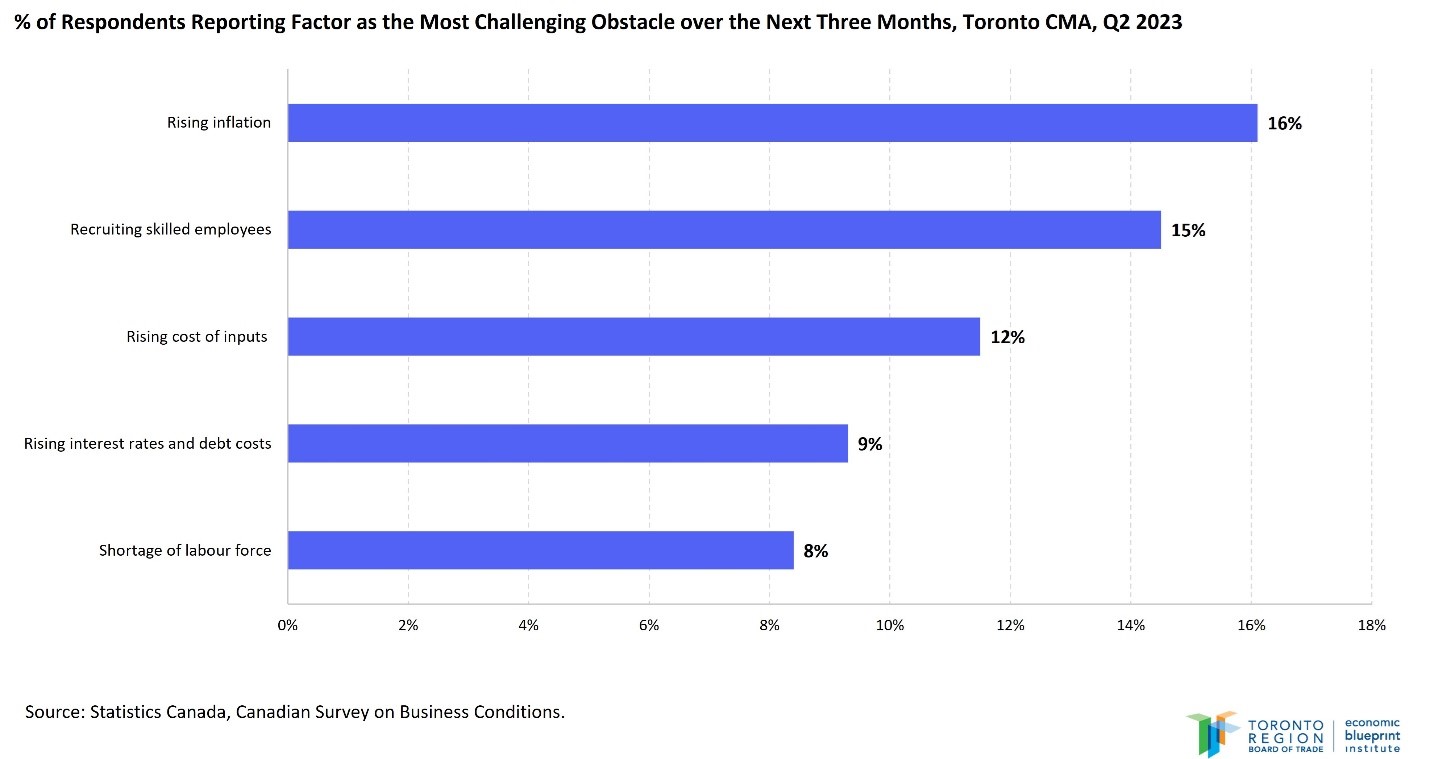 Businesses are more optimistic about the future
Since the first quarter of 2023, more businesses in Toronto expect their sales and number of employees to rise – in line with findings from across Canada. Profitability expectations over the short-term have also improved since the last survey. Whether these expectations translate into improved spending conditions in Toronto after a slow-down in recent months remains to be seen. While the findings signal greater optimism in the Toronto CMA, businesses in the region remain the least optimistic about the year ahead – only 66% of businesses surveyed have an optimistic outlook vs 74% Canada-wide.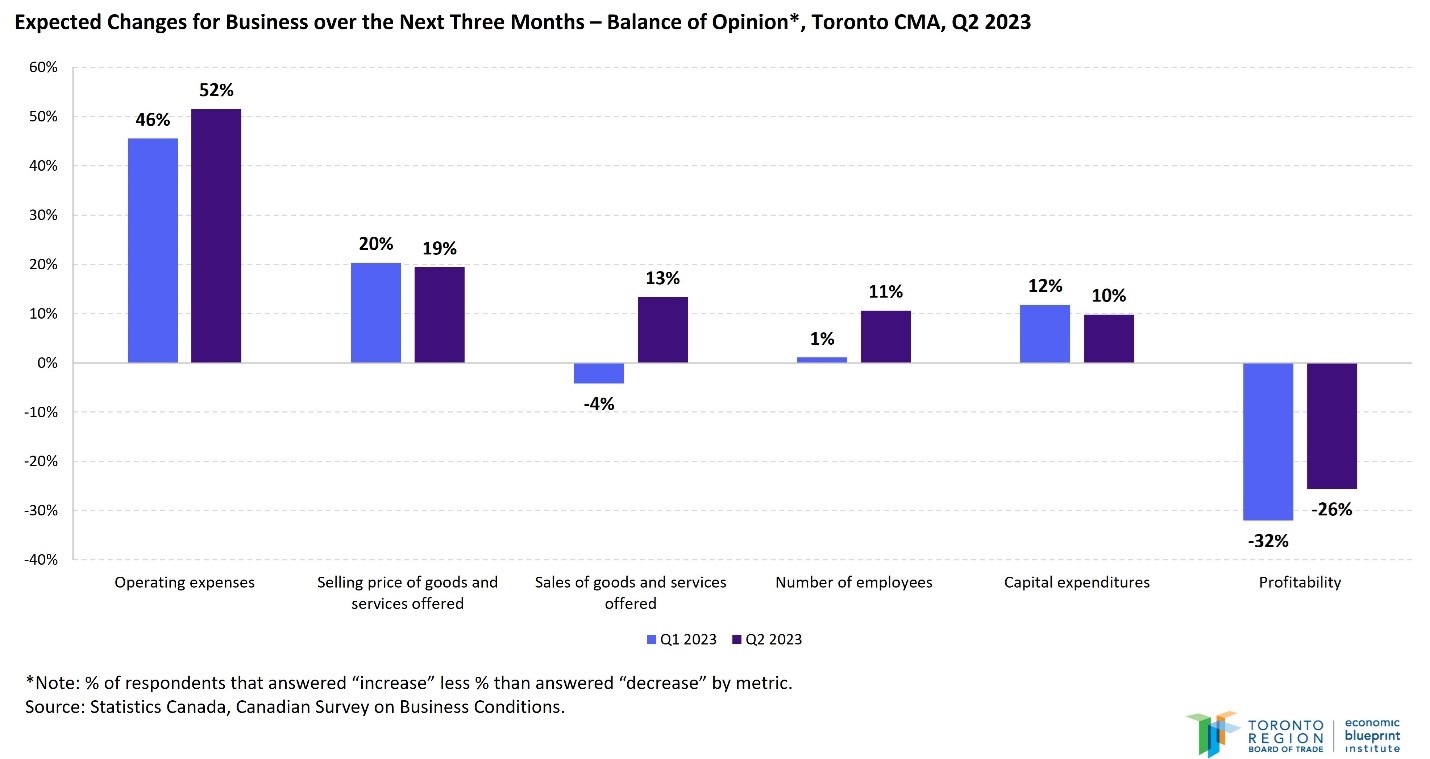 Workers expected to continue trickling back to the office
While hybrid and fully remote work arrangements appear to be here to stay, more businesses in Toronto are signalling that their workers will work on-site. An average of 76% (unweighted by firm size) of the workforce in Toronto is anticipated to work on-site exclusively or for most hours, up from 68% in Q1 2023. Still, the steady-state of the distribution of work-from-home vs in-person remains unclear. As of April 2023, worker levels in the Toronto CMA are still 25% below Jan 2020 levels and 46% below pre-pandemic levels in downtown Toronto.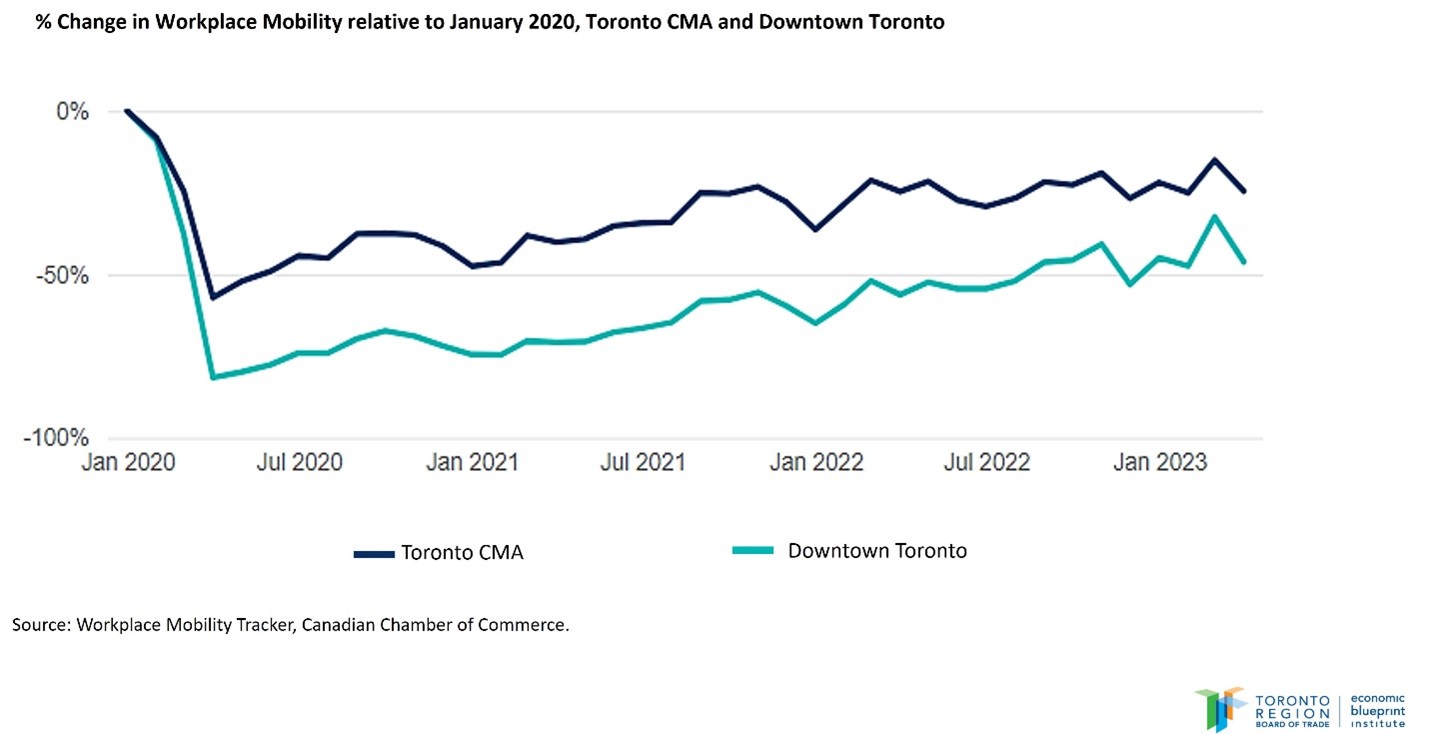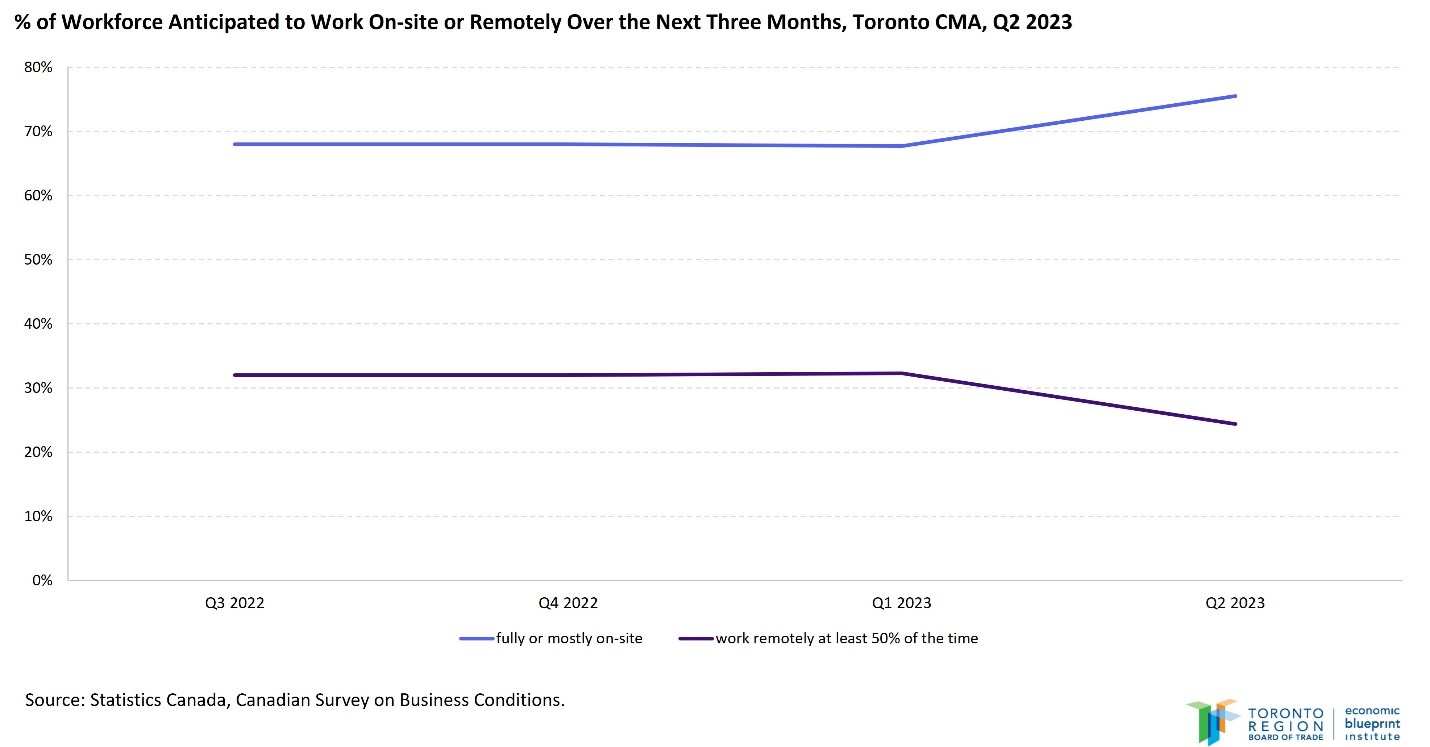 About the Canadian Survey on Business Conditions Report
The Canadian Survey on Business Conditions (CSBC) was created in the spring of 2020 by Statistics Canada in partnership with the Canadian Chamber of Commerce to provide timely and relevant data on Canadian business conditions. The data is used by policymakers, chambers of commerce, boards of trade, industry associations and researchers to monitor evolving Canadian business conditions and trends. The 2023 Q2 CSBC was collected from April 3 to May 8, 2023. The survey was conducted by Statistics Canada via electronic questionnaire, using a stratified random sample of establishments with employees. The 2023 Q2 CSBC survey is based on responses from 15,401 Canadian employers.
The Canadian Survey on Business Conditions Report presents in-depth quarterly analysis of the CSBC conducted by the Canadian Chamber's Business Data Lab. The Business Data Lab collaborates with the Canadian Chamber Network to distribute and amplify CSBC insights to the local level.