Last Friday the Board held its Policy Priority-Setting Session. This annual gathering of TRBOT's policy committees lays the groundwork for policy development and advocacy efforts for the next 12 months. It also serves as an opportunity for members to share their insights on pressing regional issues as they help determine TRBOT's policy priorities.
This year, for the first time, we opened the morning agenda to the Board's full membership and the public, treating them to a series of special guests and insightful conversations.
Mayor Olivia Chow kicked off the day with a frank assessment of the city's core issues – productivity, transit, housing, and the need for a new fiscal deal.
In a candid fireside chat with TRBOT's CEO Giles Gherson the mayor clearly outlined her thoughts on potential solutions to the City's budget shortfall, and livability issues, as well as highlighting the New Deal Working Group that was announced earlier that week with Premier Doug Ford.
"A new deal doesn't mean new taxes; one level of government has a $20 billion surplus, and we have a $1.5 billion deficit. Well, that's not a hard argument, is it?" She continued, "I don't really care how we get it. As long as it grows with the economy, so we don't repeat this cycle."
The mayor later called on the business community to support the City of Toronto's efforts to land a deal this fall.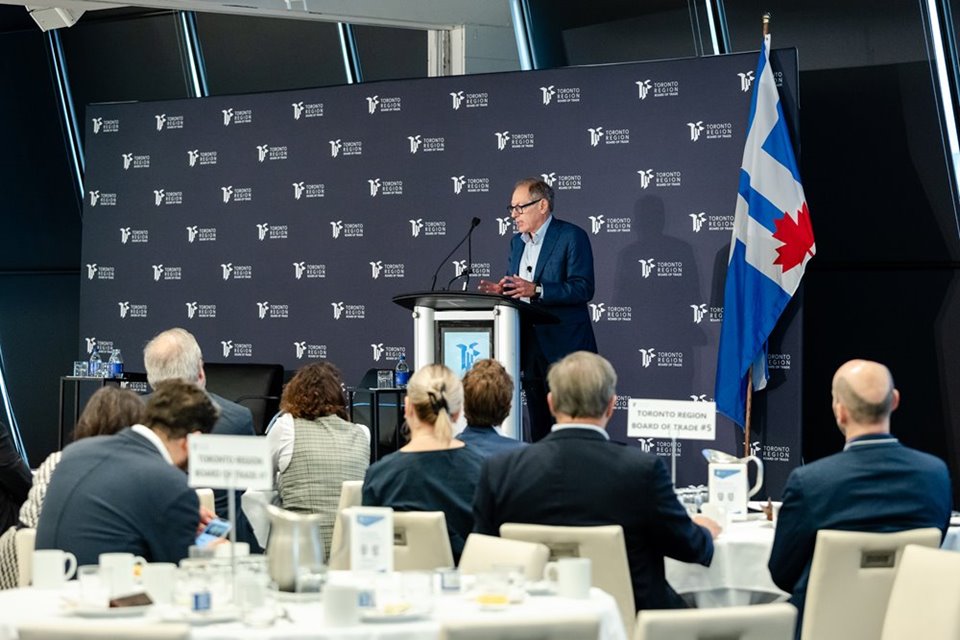 TRBOT President & CEO Giles Gherson addresses the capacity crowd at our Policy Priority Setting Session.
With the local context set, the audience was treated to a live recording of "The Herle Burly" podcast with David Herle interviewing Jean-François Perrault, Senior Vice-President and Chief Economist, Scotiabank. Perrault built on the theme of Canada's lagging productivity, affordability crisis, and the future direction of interest rates, and highlighted the importance of investment in innovation.
The two also discussed the effects of inflation, innovation, and the future of global trade. The full podcast episode will be available here.
Finally, Gherson emphasized that the Toronto region has everything it needs to succeed in a challenging global landscape but emphasized the importance of swiftly addressing the root cause of our regional policy challenge.
"The reality is that there has been an almost complete disconnect between our much-needed population expansion and our ability to accommodate it," he said. "We're at a critical inflection point, and we need to get our act together and stop the drift…fast. Advocating for governments to lead the charge isn't going to get us there nearly fast enough – we know that from experience. It'll be too little, too late."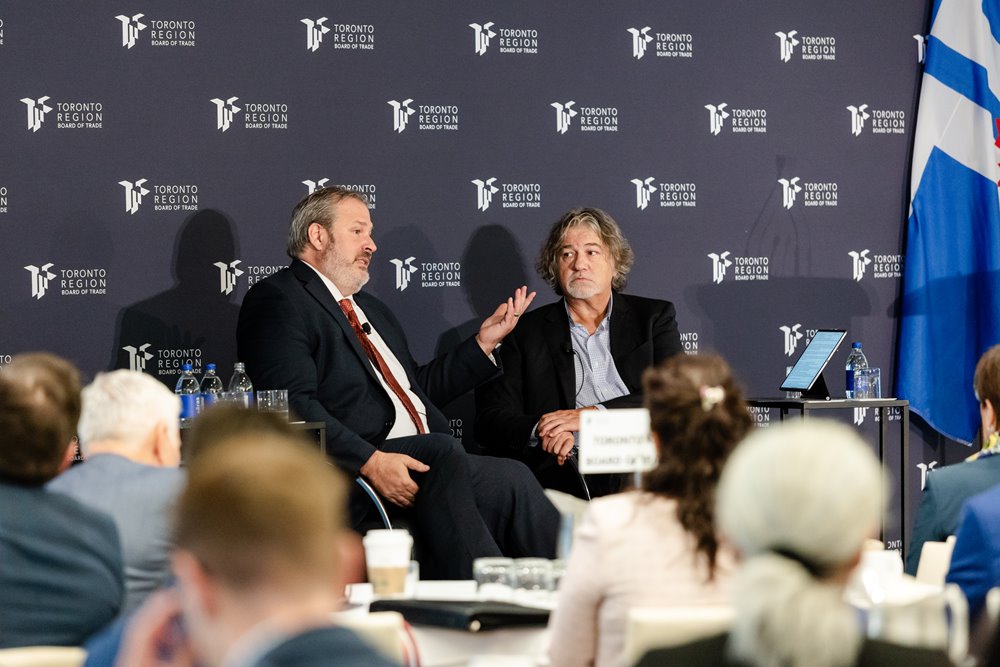 David Herle and guest Jean-François Perrault, Senior Vice-President and Chief Economist at Scotiabank.
Following his remarks, the Board's policy committees moved into the closed-door portion of the day to deliberate and form recommendations for future work that will inform the Board's advocacy going forward. From housing to transportation, the conversation was lively and thoughtful, with clear ideas on how to propel our region's growth and competitiveness forward despite challenging economic headwinds.
Thank you to our participating members for supporting the Board as we refine our focus to develop much-needed solutions to key issues. We look forward to another packed policy agenda in the year ahead.
Not a member yet? To be a part of these important conversations, access member-only resources and receive invitations to our exclusive events, visit our Membership page.
Already a member? Follow us on LinkedIn to stay up to date on upcoming events.