The City of Toronto is at an inflection point. Just weeks out from a pivotal mayoral election, we are all poised for change. Big change.
It is time to ask ourselves, What is at Stake, Toronto?
Join us alongside the most influential business leaders, decision makers, academic experts and government officials across the region for a critical conversation on the future of our City. From gridlock and public safety, to housing affordability, you'll walk away with new inspiration and insight from our keynote speaker, eminent city builder and business leader: Jon Love, CEO, KingSett Capital.
This marquee event includes an exclusive networking reception on the stunning waterfront patio of 100 Queen's Quay. Guests will also hear directly from the Toronto Region Board of Trade's Chair of the Board and MaRS CEO, Yung Wu, our esteemed current CEO, Jan De Silva, and our incoming CEO, Giles Gherson.
Register today – with change comes opportunity. This is a conversation not to be missed.
tickets:
Individual:
Member: $99
Non-Member: $150
Table of 10:
Member: $990
Non-Member: $1,500
Networking Reception Partner:
Agenda:
11:00am - 12:00pm: Registration & Networking
12:00pm - 12:05pm: Welcome Remarks from Jan De Silva, President & CEO, Toronto Region Board of Trade
12:05pm - 1:05pm: Lunch
1:05pm - 1:15pm: Remarks from Yung Wu, Chair of the Board of Directors, Toronto Region Board of Trade and CEO, MaRS Discovery District
1:15pm - 1:20pm: Introduction of Keynote
1:20pm - 1:30pm: Keynote Remarks from Jon Love, CEO, KingSett Capital
1:30pm - 1:55pm: Fireside Chat & Audience Q&A with Jon Love
1:55pm - 2:00pm: Closing Remarks
About the Keynote: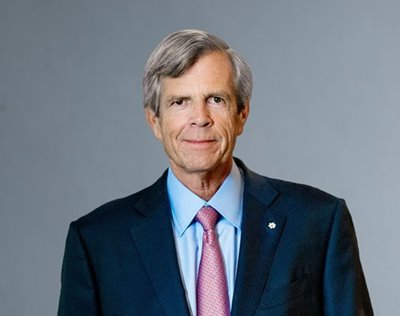 Jon Love is the founder and CEO of KingSett Capital, Canada's leading private equity real estate investment firm. KingSett creates investment vehicles to co-invest with institutional and ultra-high net worth clients. Founded in 2002, KingSett has over $17 billion in assets under management and has established a proven track record of delivering success for its Growth, Income, Urban, Mortgage, Residential Development and Affordable Housing investment strategies.
Jon began his real estate career with Oxford Properties in 1980, gaining experience in leasing, property management, and development in increasingly senior leadership roles, becoming President of Oxford Properties in 1987 and CEO in 1992. Jon led Oxford's initial public offering in 1995 and oversaw $7 billion in acquisitions over the ensuing six years, including Marathon Realty and the Canadian portfolios of both Prudential and the Royal Bank. Oxford was acquired by the Ontario Municipal Employees Retirement System (OMERS) in 2001 in a $4 billion privatization.
Jon is a member of the Business Council of Canada, the Chief Executives Organization, and Young Presidents' Organization (YPO). Jon is also an Emeritus Advisory Board member at Western University's Ivey Business School, where he received an Honours degree in Business Administration. He was awarded an Honorary Doctorate from Western University in 2016 and became a member of the Order of Canada (C.M.) in 2018. Jon received the Ivey Business Leader of the Year Award and the NAIOP Rex Icon Award in 2023.